Mini Power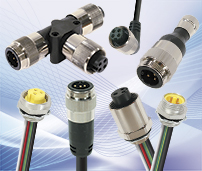 Mini Power Distribution System

Connect and power your industrial automation processes with the Mini Power family - a complete modular power distribution system from Belden's Lumberg Automation brand.

The plug-and-play capabilities of the Mini Power family help you quickly and easily set up, maintain or upgrade your system. All of the components come pre-wired and pre-tested to eliminate the installation errors that are common in traditional hardwired systems. The Mini Power system saves you time and money, and enables anyone to manage the system.

With both 3-pole and 4-pole connector options available, this 1-3/8 inch, D-sized mini power distribution system is ideal for machine builders and industrial automation in manufacturing settings. [ DOWNLOAD BROCHURE ]




Product Features

Quick Assembly
Install pre-wired, pre-tested solutions - don't waste your time with hardwired systems.

Cost-Effective Solution
Save time and costs with a plug-and-play system - no tools or training required.

Easy System Expansion
Add or replace parts in just a few simple steps for quick maintenance or upgrades, to future-proof your system.